This is the most expensive fan fiction ever. – Edward Kitsis
Once Upon a Time's newest stars, Elizabeth Lail (Anna) and Georgina Haig (Elsa), graced the most recent cover of TV Guide.  The cover story suggested that we might get a look at Hans's twelve brothers and revealed the name of the reindeer portraying Sven (Jack.)  Lail laid out what ultimately leads Anna to Storybrooke:
"Anna is led to believe her parents went on that voyage in search of something that could help ­control Elsa's powers, but she's just not sold on it.  She's determined to find out the truth about their mission. She dearly loves Kristoff but knows she can marry him next month or next year. What matters is her sister."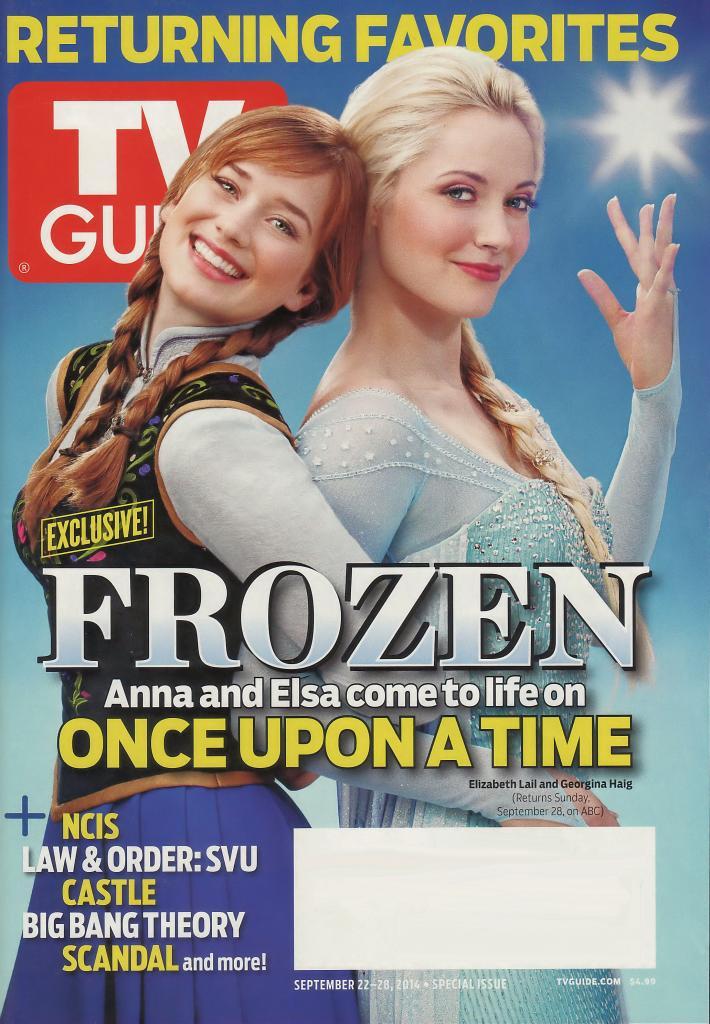 Producers Edward Kitsis and Adam Horowitz sat down with The Hollywood Reporter to answer a few questions about season 4.  Beyond reassuring fans of both Once Upon a Time and Frozen that both properties would receive commensurate respectful treatment, they let drop a few hints about what's in store for the sisters.  Elizabeth Mitchell is definitely the Snow Queen.  Kitsis offered this teaser about the collision of Arendelle and Storybrooke:
It's much more about Anna — what we love about her is that she's fearless and she never gives up on the people she loves. She has no problem going off into the middle of the storm to find her sister. What happens when a true believer like that gets in front of the devil himself, Rumplestiltskin, who sees the worst in everyone? What happens with these two kinds of characters? In fact, what happens when Elsa, who is somebody who wanted to run away, meets another character who loves to run away, Emma?
TV Guide also released a video clip from the photo shoot and some personal time with Lail and Haig.  Check them out in costume talking about their characters, their costumes, and their favorite fairytales.